Differences in LED Colors and Different Uses
What is being referred to when you say color temperature lighting is the tone of "white" light which is emitted from a source of light.
One simple way of looking at this is by considering the various shades that in its life a white T-shirt may go through. If you wash a white T-shirt with your dark blues it may seem to be white on its own, however, if you place it next to a new white T-shirt, it may seem slightly blue. If you wear a T-shirt for a long time, then when it is placed next to a new one, you can see how yellow the old one looks. White light will also look quite different when two sources that are different with two color temperatures that are different are placed side by side.
So that you are able to tell the difference between the various shades of white, they label artificial light sources with a color temperature which is tungsten and incandescent, or with a CCT (correlated color temperature) which is basically everything else. The way that they measure both CCT and color temperature is in degrees Kelvin, procured from "blackbody radiation"
To put it simply, as radiation is absorbed by an idealized "blackbody radiation", it will glow different colors. It is extremely orangish-yellowish in color when at a 2000K temperature. As the temperature is increased, the color changes to yellow, then yellowish-white, then white, and finally a bluish white.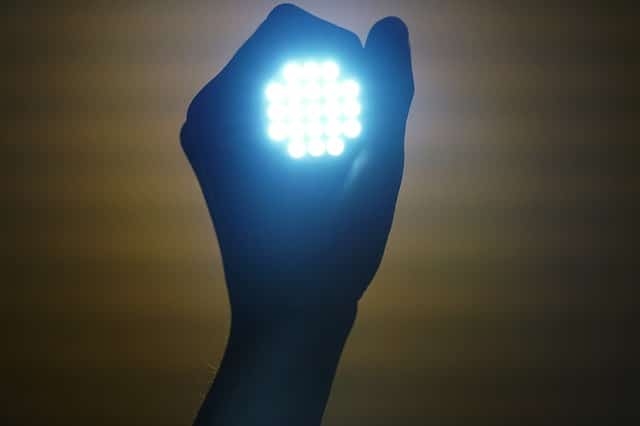 So in the residential outdoor lighting, traditionally the color white has been classified as cool white or warm white, this depends on its CCT. When there were more limitations on lighting sources and an item which was not available commercially was LED lighting, what was known as "warm white" was halogen, fluorescent, and incandescent lights with 2700K CCT or with 3000K CCT. What was considered "neutral" was fluorescents with a 3500K CCT and sources with a 4100K CT and above was considered to be "cool white".
This has been changed by LEDs. When they initially became commercially viable in "white", LEDs were not as expensive if they were in the bluer spectrum, this is why most of the earlier "white" light sources tended to favor a 6000K CCT or above. Due to this, we can now observe manufacturers that call 5000K neutral, I have even seen that some refer to a 4000K as "warm white".
That being said, to LED buyers the most important piece of advice I can give is to inquire as to what a lamp or a fixture´s correlated color temperature is prior to purchasing it, not if the color temperature is "cool" or "warm".
It is also important to keep in mind that there is a chromaticity range to correlated color temperatures. Without delving into the scientific details, what this means to an installer and end user is that not every CCT lamp of 2700K will look the same. So to avoid any problems, it is smart that you do not mix and match manufacturers unless you have already tried their products together.
The way that light makes space feel is why CCT is so very important.
The ranges of candle light are from 1500-2000L to most people this feeling is a romantic one. This is why hotels, restaurants, and homeowners who are seeking a cozy feeling may want to go with color temperatures which are 2400-2700K. Transitional spaces in between cozy areas to more functional ones, for example, hallways, may be best lighted with color temperatures between the ranges of 3000-3500K.
Warm, colors in art, furniture as well as other objects in an area are also drawn out with warm CCTs. This is why designers tend to recommend 2700-3000K for those looking to highlight the yellows and reds in the wood grain of their flooring.
However, on the other hand, I have observed quite a few industrial and commercial facilities which seem to lean toward sources of 4000-5000K because this light is what matches daylight the closest, therefore they feel as if the space has more of a business focused and productive "feel" to it.
When it comes to cooler light, the other advantage is that it is often perceived by people as being "brighter" or as producing more light than sources with color temperatures that are warmer. Due to this increase in perceived light, for some businesses shifting to color temperatures that are cooler may also provide an energy-saving effect, as they are actually able to use less light than would be used with CCT sources that are warmer.
When it comes to residential outdoor lighting in Houston, there are both pros and cons to cool and warm color temperatures. The crucial point here is to understand the environment in which the lights are being put into.
Warm color may come across as "not being bright enough" if they are placed in areas where people want to work under a crisp white light. In areas where daylight which is naturally cool-colored enters from skylights or windows, warm colors usually come across more pink or yellow, this may cause people to believe that the lights are not properly working.
What could be a potential downside to opting for cool colors is that many people view it as being "sterile" or "institutional". Some people may not be happy if you change from a color that is warm to one that is white as they may believe it to be "too bright", even if the output of light is measured the same or slightly decreases.
The key to choosing the perfect color temperature is evaluating your environmental needs.
Make sure to inform the supplier of the kind of environment or the kind of ambiance you are seeking to create in the area. Although if you are planning on changing from a certain light source to another, for example, fluorescent to LED, or on switching the CCT, I highly recommend that you entire rooms be finished at the same time. Much like the T-shirt analogy, if people cannot see two CCT light sources that are different near each other, it is much more difficult to notice a difference.
Call or contact Robert Huff Illumination today to learn about color temperature and how it can positively affect the look of your backyard lighting project! Or you visit here to get a better view of the services we are able to provide.