What Can Outdoor LED Lights Do for Your Commercial Property?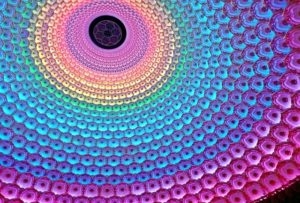 There are many decisions to make when it comes to landscaping and this is also true of the lighting. One option that you would certainly want to consider, however, is using LED lights. Not only are they environmentally friendly, they cut costs because of their energy efficiency. For those that own a business, staying within a budget is of prime concern and using LED lights is certainly going to push the needle in the right direction. The savings can be used in many other areas of your business, including marketing.
We are going to talk about some of the benefits of using LED lights but before we do, it's important to know about the energy savings. You may see up to an 80% reduction in your electricity usage when using LED lights because the bulbs are more efficient. That is one of the reasons why it is recommended that all of your outdoor commercial lighting uses LED lights.
How much longer will they last? A typical incandescent lightbulb will last approximately 1000 hours but LED lights may last anywhere from 30,000 up to 50,000 hours. According to some sources, that number may be much higher and could be upwards of 100,000 hours. Another benefit of having these long-lasting bulbs on your commercial property is the fact that it reduces maintenance because they don't need to be replaced as frequently.
Most people don't know what makes LED (light emitting diodes) lights unique in comparison to an incandescent bulb. An LED light is a semiconductor device and when you pass electrical current through it, it creates the light that you see. There really is no comparison, because LED lights will last longer, run more efficiently and are a much better choice than a regular bulb. You even have differences in color, with the primary choices being red, blue and green. Did you realize that there isn't actually a white LED light? When you see a white LED, it is because of a mixture of colors and phosphor material.
One of the downfalls of LED lights is that they aren't ideal for lighting up an entrance or other areas that need a broad light. They shine in one direction, so that does make them ideal for lighting up a sign or using in landscaping. It is that unidirectional effect of an LED light that helps to make them more efficient. An incandescent bulb throws light in every direction, using much more energy as a result.
LED lights can be found in many different industries. You can find them in your home when you open your refrigerator or when you use a camera flash. They can also be seen in many areas throughout your local area, including traffic signals, aviation lighting and headlamps in your car.
Incandescent bulbs will produce heat when they produce light. When you use an LED fault, on the other hand, there is very little heat loss and they only work when they're cool enough. They are designed specifically for this type of efficiency.
If you're considering installing LED lights on your commercial property, it is always a good idea to contact the best outdoor lighting company Houston TX has to offer. They will ensure that the LED lights are not only well-suited for the task but are also compliant with any standards that may be involved in your industry. In addition, you can tell them what you want to have as an end result and they will take your vision and bring it to life. It doesn't matter if you want to light up the walkway, advertise your sign on the building or shine some light up through the trees for beauty, they will make it a reality.
All types of businesses around the world are now making use of outdoor commercial LED lighting. When you use it at your place of business, it allows your advertising on a property to work for you 24 hours a day. This can be a real benefit because it gives you marketing without having to put extra money out of your pocket. Of course, you would want everything to be designed appropriately for your business and that is another reason why you should have professional designers and installers for your landscape lighting.
Along with using your property for advertising, you can also improve your curb appeal and brand your business using LED lights. They come in many different shapes, sizes, and types including different colors, mini lights and even specialty lighting that will really help to make your landscaping pop. There are even some commercial options available that are very low voltage and those with a strobe effect that will really make heads turn.
When you use a professional landscape company to design and install the lights, there is another benefit that you should keep in mind. Since those companies often work directly with the distributor, they can get you a much better price than what you would pay directly. This savings is passed on to you and can be recirculated in your business for a variety of purposes.
In addition, you don't want to have your business down and out while the landscaping is taking place. Using the best outdoor lighting company Houston TX has to offer can get the job done quickly so that you can be backed up and running without a hitch. They will even respect the nearby landscaping so that they don't disturb anything that you may have worked hard to achieve.
It's time to consider LED lighting for your commercial space. Contact us or call Robert Huff Illumination for more information as to how you can use LED lights to improve your property and your business.